The Complete Guide to Best Beginner Pickleball Paddles
Looking to dive into the fast-paced world of pickleball, but don't know where to start? Try one of these beginner pickleball paddles! A beginner paddle is the perfect sidekick for people eager to master the art of hitting a pickleball dink and smashing without a huge financial investment.
Navigating the saturated market of beginner pickleball paddle sets can feel like trying to find a needle in a haystack. We have play-tested all the beginner pickleball paddle sets on the list below!
---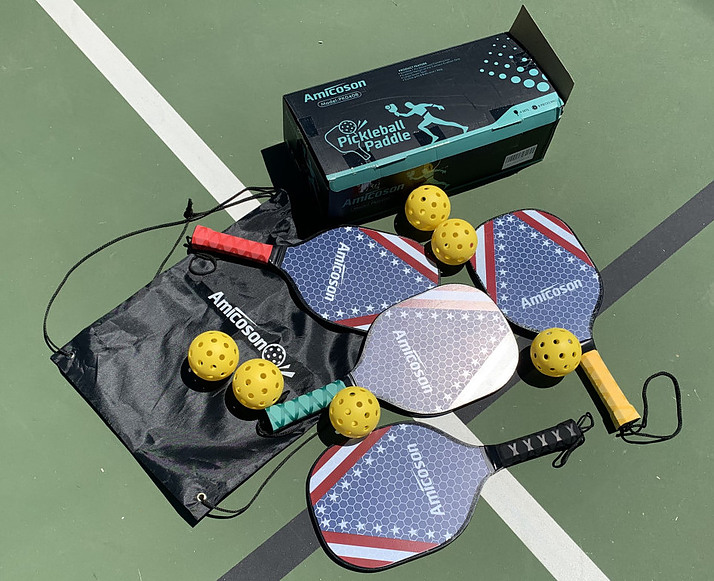 Pickleball is a popular racquet sport that combines elements of tennis, badminton, and ping-pong. It is typically played on a rectangular court with a low net, and the game can be enjoyed both indoors and outdoors.
The key features of pickleball include the use of a solid paddle, a plastic ball with holes (similar to a whiffle ball), and specific rules. Players engage in fast-paced, back-and-forth rallies, trying to score points by getting the ball over the net and into the opponent's court.
So what is the best beginner pickleball paddle set? Here is a straightforward answer that will introduce you to a host of brands that we have personally play-tested and reviewed. These companies were generous enough to send a sample of all the reviewed paddles below. There are video reviews for many of them as well! As an Amazon Associate, I earn from qualifying purchases.
---
Now that you've got a sneak peek of what's in store, read on to equip yourself with the knowledge about beginner pickleball paddle sets. As an Amazon Associate, I earn from qualifying purchases. The links below will send you to an Amazon page where the best prices available will be offered.
---
What is a Beginner Pickleball Paddle Set?
A beginner pickleball paddle set is a kit designed for newcomers to the sport of pickleball. It typically includes the essential equipment needed to get started: paddles and pickleballs. These sets are crafted with beginners in mind, offering user-friendly features to help players learn and enjoy the game without the complexity of advanced equipment.
Key Features of Beginner Pickleball Paddle Sets:
User-friendly paddles: Beginner paddles are typically lightweight and have a larger sweet spot, making them easier to control and hit the ball consistently.
Durable construction: Beginner paddles are often made from durable materials like wood or composite materials that can withstand the rigors of regular play.
Comfortable grips: Beginner paddles often have cushioned grips to reduce hand fatigue and provide a comfortable playing experience.
Indoor and outdoor pickleballs: Beginner sets often include both indoor and outdoor pickleballs, allowing players to enjoy the game in various settings.
Carrying case: Most beginner sets come with a carrying case for easy transport and storage of the paddles and pickleballs.
New replacement grips: Some paddle sets include new replacement grips and or cooling towels.
---
Why is a Beginner Pickleball Set Important?
A beginner pickleball paddle set is important for several key reasons:
All-Inclusive Bundle: These sets are designed to provide everything a novice player needs to start enjoying the game immediately. They save beginners the hassle of purchasing individual components and ensure they have the necessary equipment from the get-go.
Affordable Entry: Beginner sets are typically priced reasonably, making them accessible to a wide range of players. This affordability lowers the financial barrier to entry, allowing more people to experience the sport without a significant upfront investment. Often it is as little as $10 for a paddle! Who can beat that?
Getting Started Quickly: With a beginner paddle set, you have the basic tools required to get the ball over the net and into play. It's an excellent way to kickstart your pickleball journey without the need for extensive research or trial and error. And you haven't invested a lot of money before knowing that you even like the game of pickleball.
Room for Upgrades: As your skills and preferences evolve, you can always upgrade your equipment. Beginning with a starter set helps you learn the game and discover your playing style before investing in more specialized paddles. More advanced paddles will offer nuances for spins, touch, power, and other aspects of needs for intermediate and advanced pickleball players.
Avoiding Frustration: Using a set designed for beginners can prevent the frustration of trying to play with unsuitable or mismatched equipment. It ensures a smoother learning curve, enhancing the overall pickleball experience. These paddle sets provide a paddle that can be used by all level players. After all, the goal is to get the ball over the net and these beginner paddle sets WILL do just that!
---
Comparing Beginner Pickleball Paddle Sets
When you're fully committed to embracing pickleball, these all-inclusive sets provide you with the ultimate value by encompassing all your requirements. Whether you're an individual eager to share the joys of pickleball on a single court or a YMCA seeking equipment for multiple courts, we've got you covered. From wooden, and composite, to graphite paddles, the options are aplenty as far as materials used to make beginner pickleball paddle sets. These sets unquestionably offer the most value for your investment.
---
Amicoson Pickleball Paddle Set
As an Amazon Associate, I earn from qualifying purchases.
Comes with a vibrant graphic that provides strong visual enjoyment during a pickleball game
4-pack pickleball paddles, 8 pickleballs and 1 portable racquet bag to meet all pickleball game needs anywhere and anytime
Premium grip for maximum comfort and playability
Classic design & a beautiful box great for gifting or storage
A cost-effective Pickleball Paddle set for beginners, schools, clubs & YMCAs, and Rec departments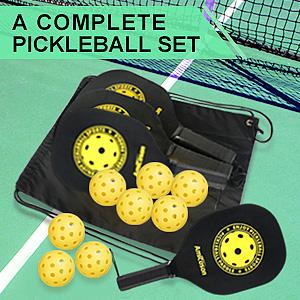 ---
Amicoson Pickleball Paddles – Pickleball Set of 4 Paddles, Indoor & Outdoor Pickleball Balls, Pickleball Paddle Set of 4 Wood Pickleball Racket Ergonomic Cushion Grip, 8 Pickleball Balls & 1 Carry Bag
Amicoson wooden pickleball paddles made from stronger basswood compared to commonly used poplar. 7-ply basswood construction holds up to rough use, making it a great choice for schools and community centers, as it is less likely to break.
---
BLTEND Pickleball Paddle Set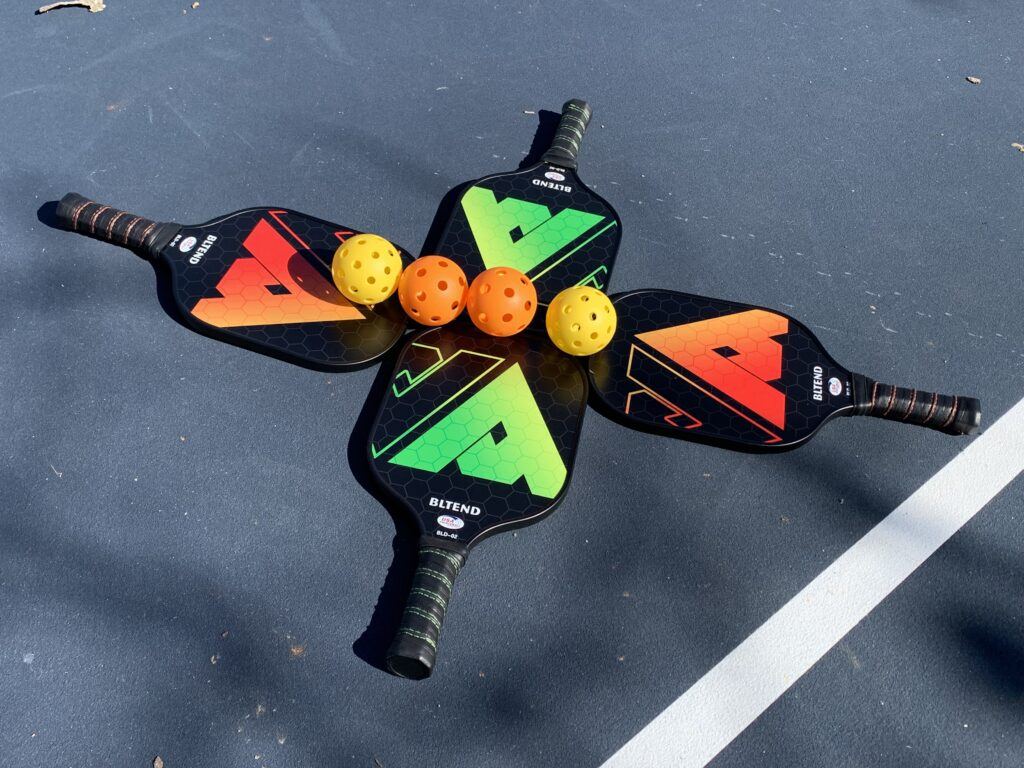 As an Amazon Associate, I earn from qualifying purchases.
The Bltend pickleball paddles set includes 4 pickleball paddles, 2 outdoor and 2 indoor pickleball balls, 4 replacement grip tapes, 4 cooling towels, and 1 carrying pickleball bag. You can play pickleball anytime and anywhere. These would make great gifts.
The Bltend pickleball paddle is USAPA-approved. Each pickleball paddle is manufactured strictly according to USAPA standards. Bltend pickleball paddle is suitable for all skill levels of players, though most suitable for those just starting out.
Bltend pickleball paddles are made of premium fiberglass face and polymer honeycomb core. Fiberglass is used on the surface to improve the elasticity of the pickleball group and reduce the noise when the pickleball is hit. Polypropylene honeycomb technology improves the strength of the pickleball racket and greatly reduces the weight of the pickleball set.
The grip of the pickleball set is designed with ventilation holes, and an anti-slip, abrasion-resistant, and durable one-piece grip. It allows users to better grasp the grip and provides cushioning for longer play.
The paddle dimensions measure 15.75" by 7.87". The wide-body design provides a large sweet spot, important for a beginner's success. This lightweight pickleball paddle is only 7.8 ounces, allowing players to move quickly while maintaining control. Suitable for both beginners and intermediates.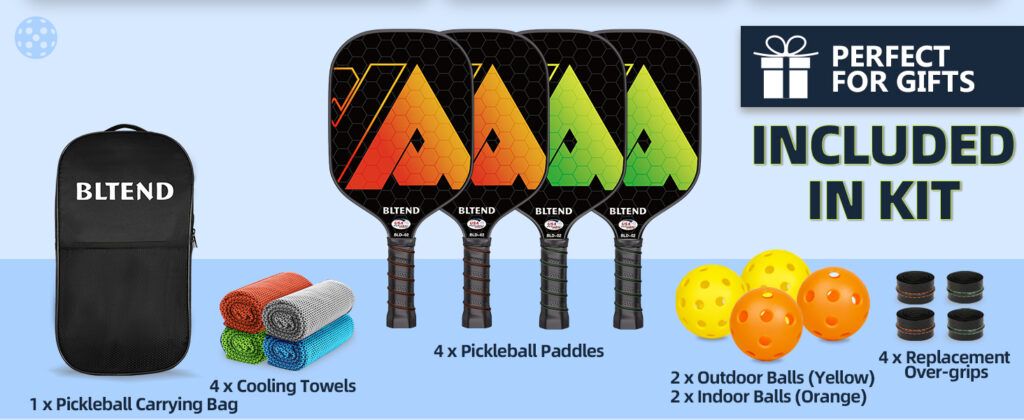 ---
---
VMakerz Pickleball Paddle Set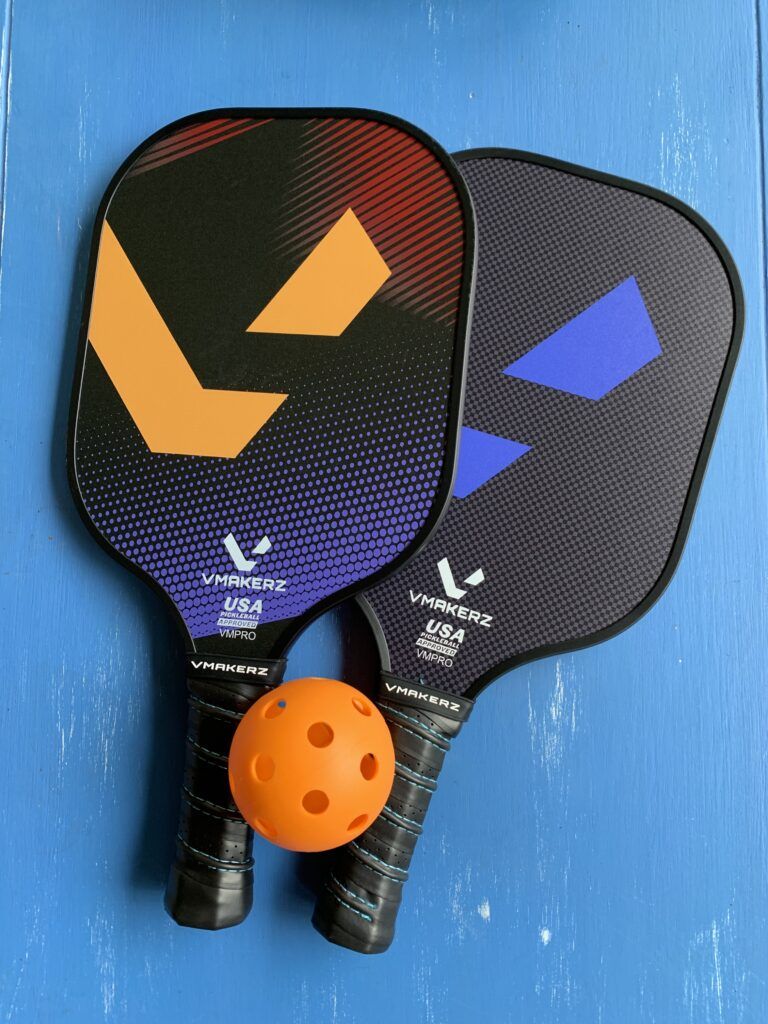 As an Amazon Associate, I earn from qualifying purchases.
These VMAKERZ high-quality graphite pickleball paddles have earned the prestigious approval of the USA Pickleball Association. (Paddle dimensions: 15.67″ length x 7.8″ width) 
This comprehensive set is your gateway to pickleball excitement from day one. It includes everything you need to get started and enjoy countless hours of pickleball action. With 2 paddles, 2 indoor balls, 2 outdoor balls, a convenient mesh ball bag, 2 grips for improved control, 2 cooling towels, and a durable carry case for easy transport, you're well-equipped for any pickleball adventure.
The pickleball paddles are constructed with a graphite surface and polypropylene honeycomb core structure. This material offers exceptional ball control, delivers powerful shots, and enhances spin, making your gameplay more dynamic and competitive. Whether you're aiming for precision or power, these paddles have you covered.
Designed with your comfort in mind, these paddles are impressively lightweight (Paddle weight: 7.76-7.94 oz.), allowing for effortless swings and quick reactions on the court. Additionally, the ergonomic cushion grip provides a comfortable and secure hold, minimizing hand fatigue even during prolonged matches.
Whether you're a seasoned player looking for high-performance gear or introducing newcomers to the game, this set provides the perfect platform for enjoyable pickleball experiences. Share the excitement with friends and family, and let the games begin! (4.25″ grip circumference and 4.92″ grip length fit most hands).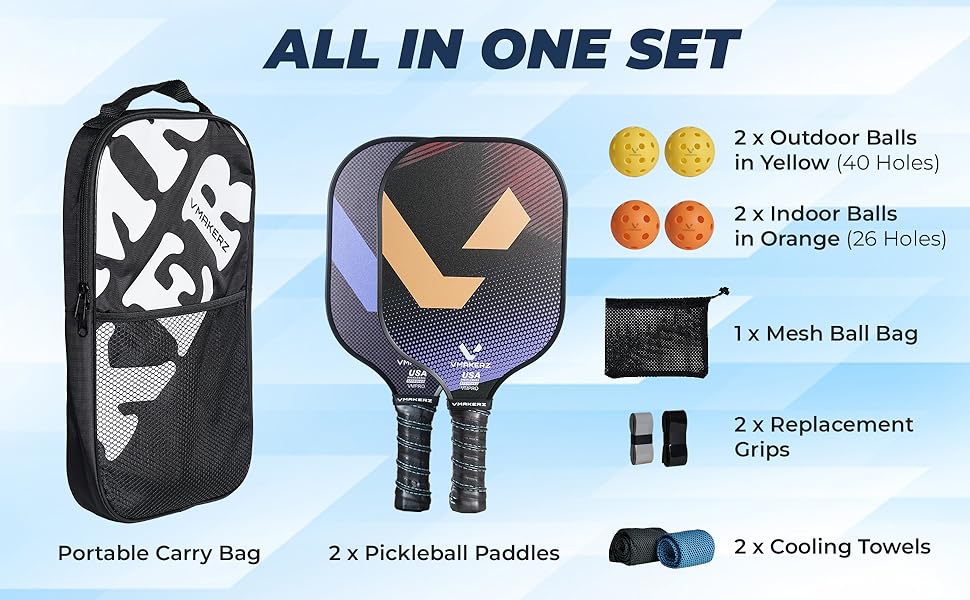 ---
UBYMET Pickleball Paddles
As an Amazon Associate, I earn from qualifying purchases.
UBYMET pickleball paddles, made in accordance with USAPA paddle standards, with a 7.8-inch paddle for sweet-spot to reduce mishits, and a 4 1/4″ handle that suits most hands comfortably.
UNLEASH POWER AND SHOT VARIETY: The 2023 latest pickleball paddle, features a polypropylene honeycomb core, maximizing power and speed in every shot, meanwhile allowing for precise placement, easy spin, and effortless maneuverability.
Ridged perforated padded handle, an anti-slip grip.
Reinforced edge guards protect the pickle-ball paddle surface and core against court damage.
Comes with 2 pickleball paddles, 2 outdoor balls, 2 indoor balls, and 1 carry bag, great for recreational play, novice play, family leisure, school activities, and community sports in all seasons.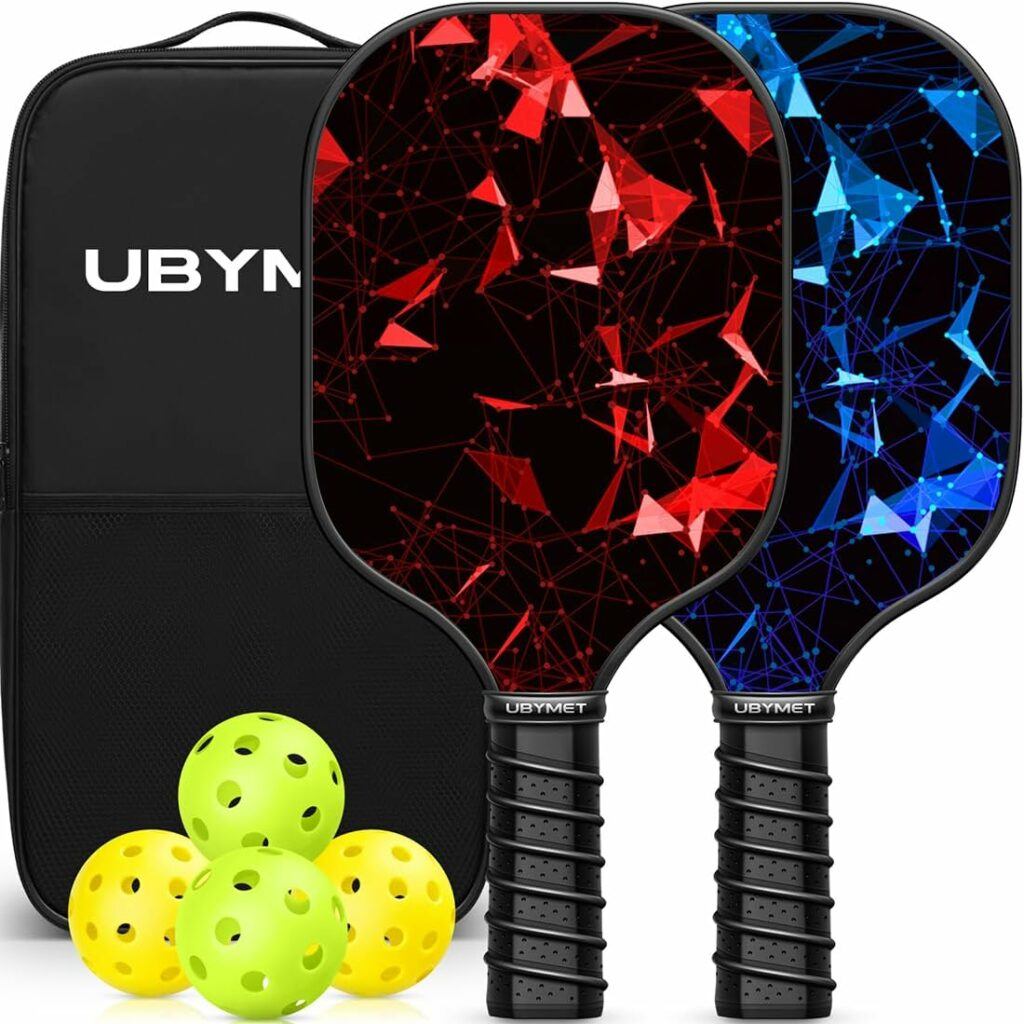 ---
FitVille Pickleball Paddles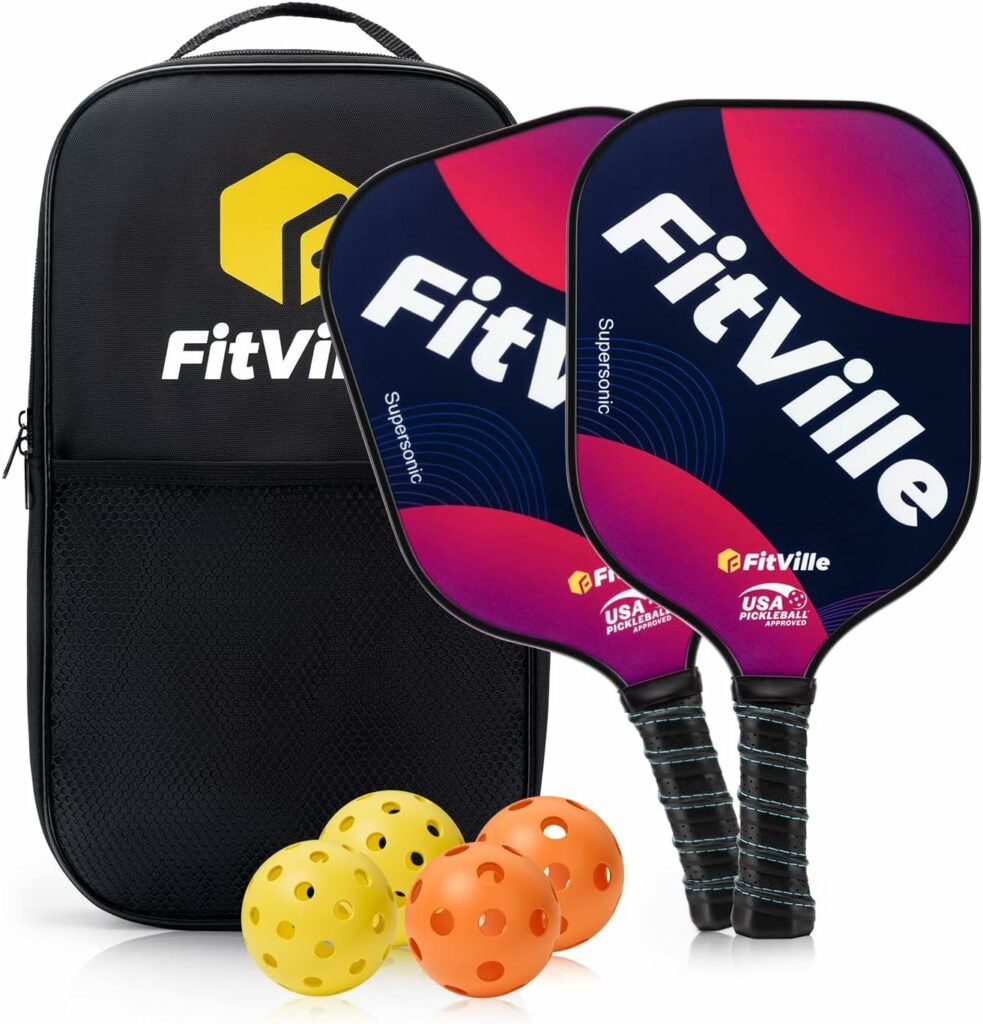 As an Amazon Associate, I earn from qualifying purchases.
Package Content: 2 Pickleball Paddles + 4 Balls(2 Outdoor Balls, 2 Indoor Balls) + 1 Carry Bag.
Made of lightweight and durable fiberglass for exceptional control.
Thoughtfully designed with extended handle length, accessible for players with different sizes of hands.
A thicker core provides excellent shock absorption to avoid injuries while offering better control and ultimate power.
Ergonomically designed handle with breathable material for a comfy and steady grip.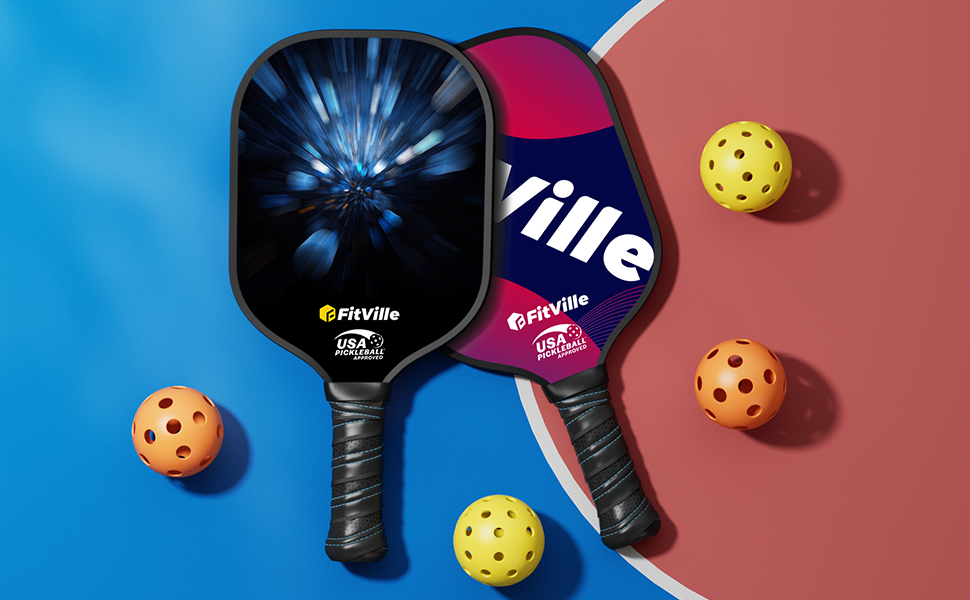 ---
Best Pickleball Paddle Set Pros and Cons
We rated the Best Pickleball Paddle Sets with these criteria in mind.
PROS of Beginner Pickleball Paddles
PRICE – Under $50 is a good price for a Beginner Pickleball Paddle Set of 4 paddles and balls.
PADDLE WEIGHT – Lightweight is best. Under 10 ounces is considered lightweight
CORE MATERIAL – Wood is a basic material, and fiberglass and graphite are a step up.
GRIP – Average grip size is: 4 1/4″ and will fit most hands.
PRODUCTION LOCATION – Few paddles are Made in the USA. Read the label if that is important to you.
---
CONS of Beginner Pickleball Paddles
FLOODED MARKET: Overall beginner pickleball paddle set market is flooded with products from China. Many seem to be replicas of each other, marked with different exterior graphics.
BEGINNER CENTRIC: While great for novices, the Amicoson set might not meet the performance demands of more advanced players looking for specialized paddles.
NOTHING REALLY SPECIAL OR UNIQUE: Paddle preferences vary, and some players may prefer different materials or designs, however, they will do the trick for an introduction to the game of pickleball.
---
Comparisons Between Beginner Pickleball Paddle Sets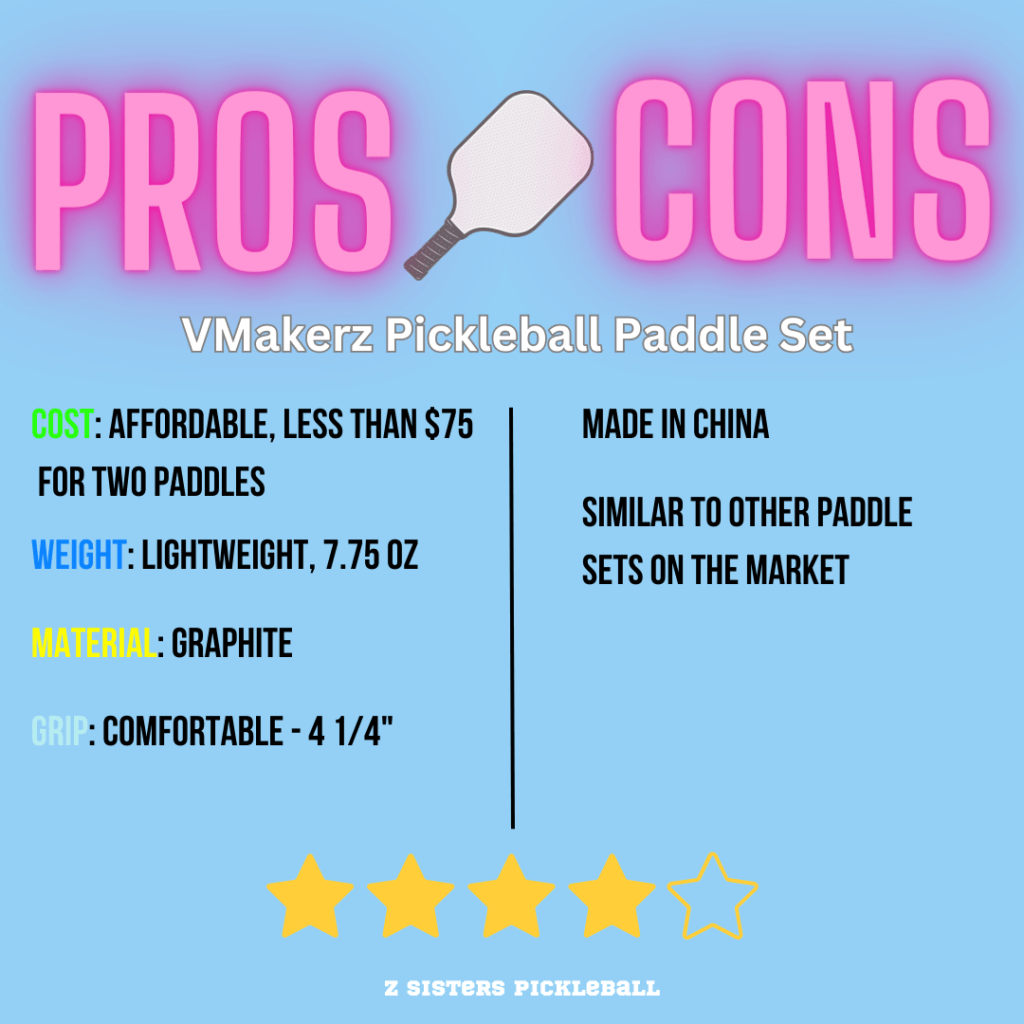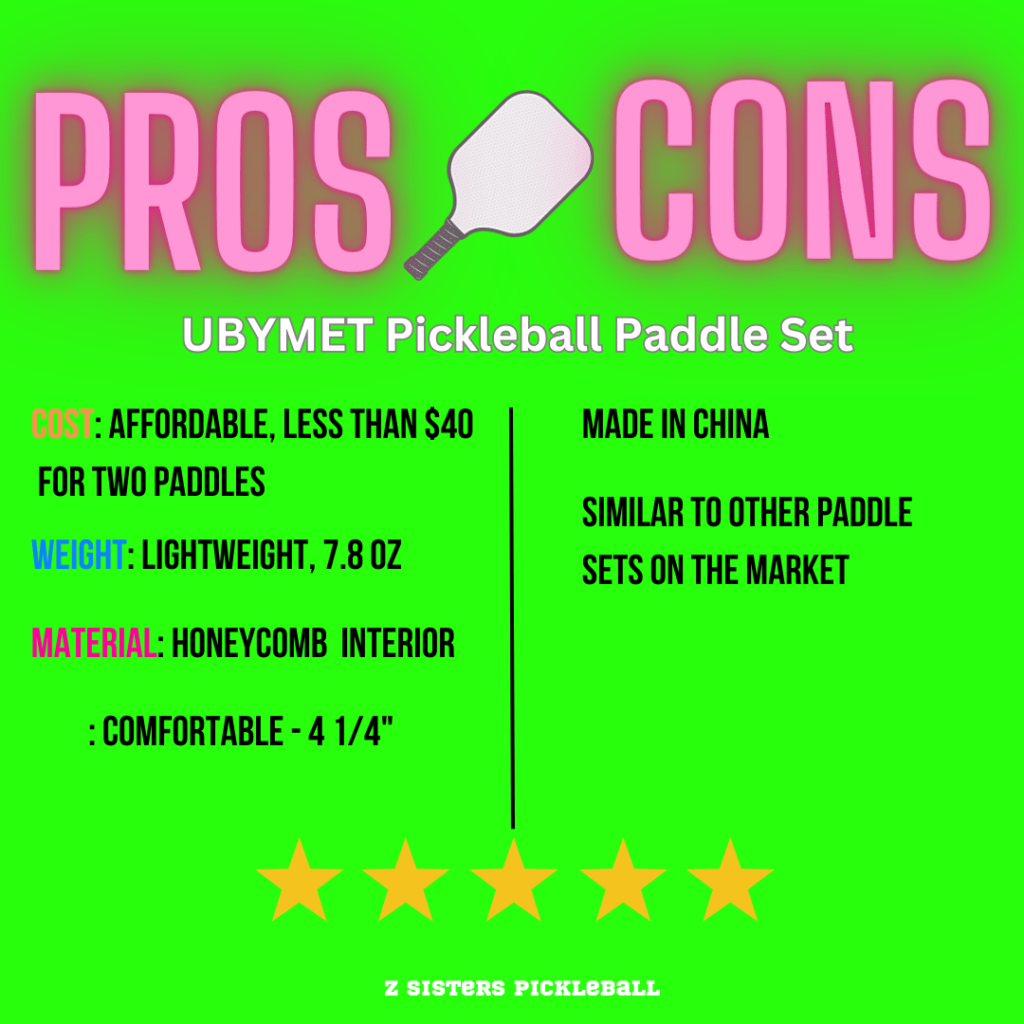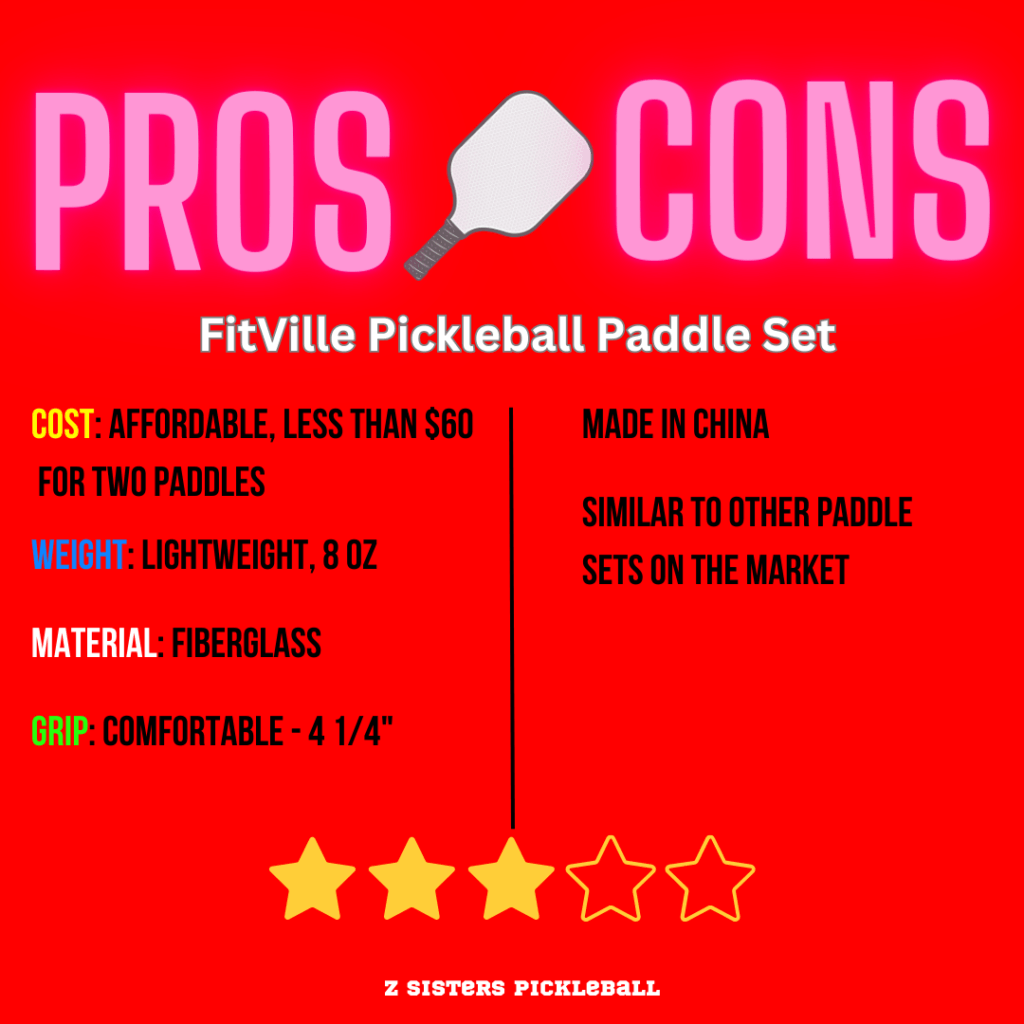 ---
Recap on Best Beginner Pickleball Paddle Sets
If you choose ANY of the five Best Beginner Pickleball Paddle Sets that Z Sisters Pickleball rated and reviewed above, you will be very happy and ready to play pickleball!
We selected the BLTEND Pickleball Paddle Set to be the best choice, quality-wise and playability-wise.
The most cost-effective is the Amicoson Paddle Set coming in at just over $10 per paddle!
The best graphics are on the BLTEND Pickleball Paddle Set, though that statement is very objective. We love bright colors and these paddles have them!
---
Do I Need a Fancy Pickleball Paddle to Begin Playing?
---
Intermediate Level Pickleball Paddles
---
Still Hungry for More Pickleball Info?
Check out this video series here by Z Sisters Pickleball
10 Things Every New Player Should Know Before Playing Pickleball: Americas Fastest Growing Sport
Try out some other product recommendations that the Z Sisters use on the pickleball court here!